This one's a little different. Much more about an adult horror approach to Halloween than the child-friendly pumpkin fest you see elsewhere.
Usually not many people read the welcome notecards given out at places in SecondLife, they're usually just full of rules that can be abbreviated to something like "don't be an arse, be polite". This one was worth reading because it abbreviates to more like "If you're offended by adult images of nudity leaning heavily towards porn.. Go No Further. You Have Been Warned."
Obviously this didn't stop me, so take it as fair warning that you will see such images below. I started by exploring the outside grounds, first to the left of the entrance since that's the side you arrive at.
Then along a misty riverbank to the other side and explore some buildings back there.
It was time to go inside and see what all the fuss was about. In here at ground level there are some fairly inoffensive naked ghostly figures, the kind that could be classed as erotica.
When you mount the stairs and head upstairs however, it's quite a different story!
Up here you'll find lots of ghostly figures going at it like they were able to breed and the human race needed repopulating. These aren't just static images like your regular SL "ghost" popping up to surprise you, quite a few are animated. I would advise against sitting your avatar on anything here, there's no telling what might happen. For me this resulted in being moved somewhere I couldn't easily leave, so I had to teleport back outside. Since I'd seen plenty inside I thought I'd see if I missed anything around the back of the house. Sure enough there's more animated kinkiness round there too.
However before I got there I came across this stone altar with a single pink pose ball on, so I sat and it had some cool ritual type animations in that I was capturing when I got a nasty surprise. Be warned ladies, heed the local chat or you may regret the consequences of staying sat too long!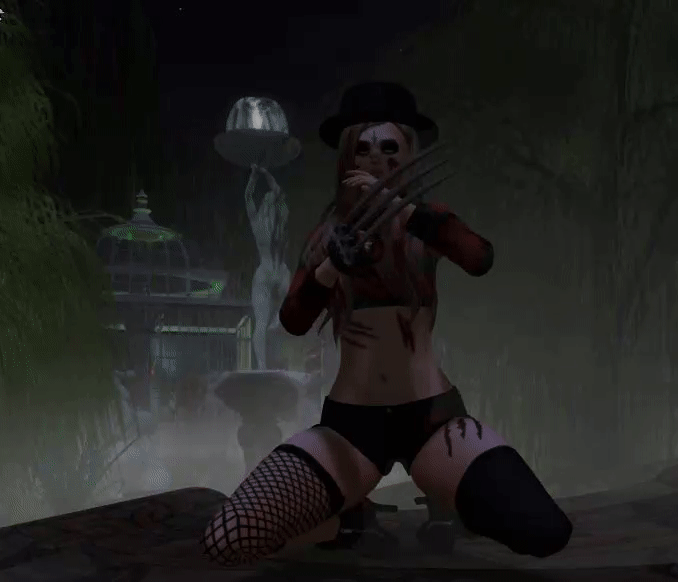 Landing Point: http://maps.secondlife.com/secondlife/Bad%20Romance/9/243/23
Outfit Credits: